Rejs jachtem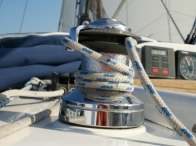 The yacht ALEXANDER - Stay in summer at the elegant yacht Alexander SL will experience unforgettable moments in a cruise on the Baltic Sea or just standing at the quay in attractive localities of the Tri-City Mobility and moor it both in the calm and in the center of events and entertainment, gives a sense of comfort which is not able to guarantee any other apartment.
Inside there are two double bedrooms, a bathroom with shower and a beautifully finished wood mahogany lounge with a kitchen, which includes a stove, refrigerator and all the utensils of daily use. It is a radio with CD player with speakers inside the boat but also in the cockpit. The marinas is available wireless Internet.
Elegant wooden deck lined with teak wood gives a feeling of warmth and luxury.
Beautiful boat will allow to know and observe the Tri-City and the surrounding area from a completely new perspective. This allows for a pleasant and peaceful movement away from traffic jams and dust.
It is worth visiting around the beautiful Tri-old Gdansk where berth in the marina, you can caress the palate in a nearby brewery where it is brewed one of the best beers in Poland and walk around the Old Town in Sopot new marina at the renowned Europe's longest wooden pier, from which only a few steps to the vibrant nightlife of the resort, Gdynia pool yacht at the entrance to the welcome you to a two-meter statue of "Finding Neverland," the boy who emerges from the sea and conducted by the waves, a port city impresses with its boulevard seaside, beautiful aquarium, and the possibility of visiting warship lightning and Dar Pomorza.
For those wanting to spend time on a yacht in peace and quiet away from the hustle and bustle we have in secluded closed to outsiders passers marina near the bird reserve in the Western Hills.
For those who recommend sea sailing cruises to Hel, Jastarnia and Władysławowo where to soothe the palate exquisitely prepared freshly caught fish and for preferring calmer cruises daytime and evening after the Motława River and canals port of Gdansk.
We recommend heartily!
Apartments map
Newsletter
Register yourself in our newsletter so will get information about our novelties at IRS ROYAL APARTMENTS.